News
All Articles
Subscribe
Apr 15, 2016
PJ Harvey's The Hope Six Demolition Project Out Today
PJ Harvey's ninth studio album, The Hope Six Demolition Project, is available today!

The Hope Six Demolition Project draws from several journeys undertaken by Harvey, who spent time in Kosovo, Afghanistan and Washington, D.C. over a four-year period. "When I'm writing a song I visualise the entire scene. I can see the colours, I can tell the time of day, I can sense the mood, I can see the light changing, the shadows moving, everything in that picture. Gathering information from secondary sources felt too far removed for what I was trying to write about. I wanted to smell the air, feel the soil and meet the people of the countries I was fascinated with", says Harvey.

The album was recorded last year in residency at London's Somerset House. The exhibition, entitled 'Recording in Progress' saw Harvey, her band, producers Flood and John Parish, and engineers working within a purpose-built recording studio behind one-way glass, observed throughout by public audiences.



PJ Harvey - The Hope Six Demolition Project: iTunes | Vinyl | Spotify

Apr 12, 2016
Bloc Party Share New Video for "Virtue"
Bloc Party have released a brand new video for their track "Virtue." The single is featured on the band's latest album HYMNS which was released in January. Check out the trippy visuals below!



Bloc Party - HYMNS: iTunes | Amazon | CD & Vinyl

Apr 11, 2016
CRUISR Joining PVRIS on Upcoming North American Tour
CRUISR has been added as support on PVRIS' upcoming North American tour! The run of dates begins on May 11th in Nashville and ends with a two-night stint in Boston on June 9th and 10th. Click HERE for full tour details and to purchase tickets!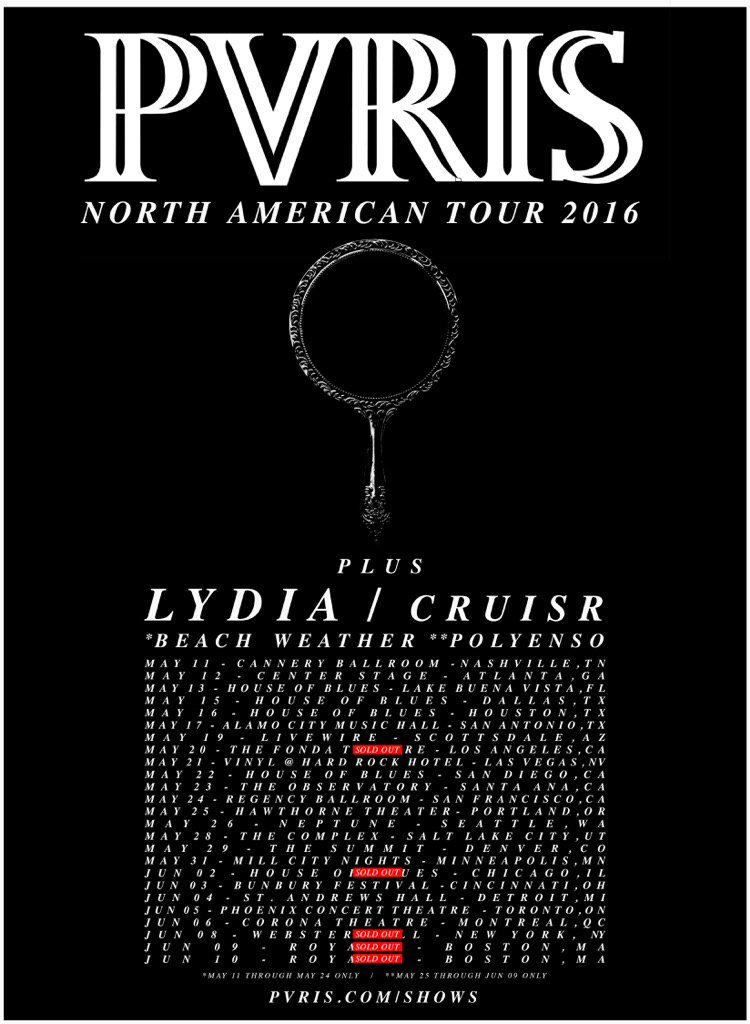 Apr 08, 2016
Mayer Hawthorne's Man About Town Available Today
Grammy nominated singer-songwriter Mayer Hawthorne's fourth full-length record, Man About Town is available everywhere today! In celebration of the album's release, Mayer will be performing the album's single, 'Love Like That,' on Jimmy Kimmel Live! on April 13th. Fans can grab tickets to attend HERE.

On Man About Town, Hawthorne is back to handling the lion's share of production. He also played damn near every instrument on the album and penned every track. His songwriting pulls from his life and observations; his heartache and joy. Sometimes it's groovy, other times he's vulnerable and sincere. It's the shit people listen to when they wanna get drunk and stoned and sentimental. The reason? Mayer Hawthorne stays making that timeless, soulful, baby-making music.

In support of Man About Town, Mayer will be kicking off his US headline tour on May 4th in Santa Ana at the Observatory. The tour takes Mayer across the states before wrapping up in Las Vegas on July 8th. Fans who purchase tickets to see Mayer live will receive a digital copy of Man About Town upon release on April 8th. A full list of dates can be found HERE.



Mayer Hawthorne - Man About Town: iTunes | Amazon | Vinyl/CD
Apr 04, 2016
Benjamin Francis Leftwich Shares New Video for "Tilikum"
Taken from his new album After The Rain, Benjamin Francis Leftwich is sharing the video to his new song "Tilikum" - the effortlessly beautiful and honest opening track from his upcoming second album, due out on August 19th.

Recorded in the foothills of Dartmoor the video provides the perfect backdrop to the journey Leftwich has undertaken over the past five years, symbolising his process of dealing with grief and finding closure along the way.

When it came to finding a location for the video Leftwich adds: "I really wanted to film something special in a really desolate but beautiful part of the world to convey the sense of loneliness and desperation vs the future and hope that I feel in the song."



Benjamin Francis Leftwich - After The Rain: iTunes | Vinyl and CD
Apr 01, 2016
Mayer Hawthorne Premieres Man About Town at Pandora
Grammy nominated singer-songwriter Mayer Hawthorne is releasing his fourth full-length record, Man About Town, on April 8th. Today, fans can stream the record in its entirety on Pandora! Listen HERE.

Earlier this year, Mayer brought his three bands together (Tuxedo, Jaded Incorporated, Mayer Hawthorne) for two sold out revue shows at the Teragram Ballroom in Los Angeles. For fans that weren't lucky enough to attend, you can watch the highlights below.



Mayer Hawthorne - Man About Town: iTunes | Amazon | Vinyl/CD
Mar 29, 2016
Blitzen Trapper Announce Headline Tour, Field Rexx To Be Release for The First Time Ever on Vinyl for Record Store Day
Portland Oregon's own, Blitzen Trapper, are pleased to announce a headlining tour run throughout the Midwest and Canada in support of their 8th album All Across This Land that was released last October to rave reviews. Starting May 27th, the tour kicks off in Evans, GA where the band will be direct support for Willie Nelson before heading to the Northwest, followed by Canada and the Midwest. A full list of dates can be found HERE.

Blitzen Trapper recently stopped by Third Man Records in Nashville for a special show where Third Man recorded their live set direct-to-acetate. Recorded in the Third Man Blue Room, without overdubs or editing, the live performance audio was mixed in real time on a Rupert Neve 5008 console and instantly cut to vinyl by master cutter George Ingram using a 1953 Scully Lathe that previously churned out masters for Cincinnati's legendary King Records. Legend has it that James Brown's It's A Man's World was cut on this lathe among others. Third Man is the only live venue in the world where artists can record their performances direct-to-acetate.

After the tour and in celebration of Record Store Day, the band will be releasing their sophomore album, Field Rexx, which was originally self-released in 2005 on CD. It's the first time the album is available on vinyl and features 3 unreleased bonus tracks and a free download code.

Blitzen Trapper – All Across This Land: iTunes | Amazon | CD/Vinyl | Spotify
Mar 28, 2016
School of Seven Bells Share New Video For "Ablaze" at Noisey
School of Seven Bells has just premiered her new video for "Ablaze" over at Noisey! The track is taken from the band's final album, SVIIB, which is in stores now. Noisey has this to say about the video:

If SVIIB is the story of Alley and Benjamin's love, collaboration, and ultimately friendship, then "Ablaze" is the opening chapter where two stars collide and the other's very existence makes the world look ripe and new. As such "Ablaze" is a surging, joyful pop song—a gauzy drift of Alley's magic melodies and pulsing synths.

Watch the video for "Ablaze" (directed by Alan Del Rio Ortiz) HERE or below.



School of Seven Bells – SVIIB: iTunes | Amazon | Spotify | Vinyl and CD
Mar 25, 2016
Thrice Announce Ninth Studio Album, To Be Everywhere Is To Be Nowhere
After a hiatus from writing and touring, Thrice is back and gearing up to release their ninth album. Fresh out of the studio with Eric Palmquist, the Orange County quartet are pleased to announce To Be Everywhere Is To Be Nowhere will be released on May 27, 2016.

Today, fans can hear a brand new song off the record, entitled "Blood on the Sand." "After watching a year of fear make people do terrible things, and now on the precipice of more of the same, this song is an anthem for anyone that's had enough of it," says frontman Dustin Kensrue. Listen to the track for yourself on Soundcloud, and download it instantly when you pre-order the album on iTunes.



Thrice has been a staple in the alternative/modern-rock world for over fifteen years. A band known for effortlessly and continuously releasing groundbreaking records, their discography has sold over a million copies, and they've toured the world with acts like The Deftones, Coheed & Cambria, Rise Against, Circa Survive and Brand New.

Thrice released their first proper full-length, Identity Crisis, in 2001 and quickly stormed to the forefront of the indie music scene as listeners rejoiced and formed what can only be described as a cult following. The band went on to release seven highly praised albums – fan favorites The Illusion Of Safety (2002), The Artist In The Ambulance (2003) and Vheissu (2005), the brilliant and eclectic four-part concept album The Alchemy Index: Fire and Water (2007) and Earth and Air (2008), the visceral and raw masterpiece, Beggars (2009), and a grunge-inspired follow-up album, Major/Minor (2011).

In celebration of To Be Everywhere Is To Be Nowhere, Thrice will be hitting the road in June with La Dispute and Gates. A full list of dates can be found HERE.

Thrice - To Be Everywhere Is To Be Nowhere: iTunes | Amazon | Vinyl/CD Bundles
Mar 24, 2016
Mayer Hawthorne Premieres New Song, "Lingerie & Candlewax"
Today, Mayer Hawthorne is sharing his newest Man About Town album cut, "Lingerie & Candlewax."



In celebration of Man About Town's release, Mayer will be hitting the road in May on the Man About Town Tour. Kicking off on May 4th in Santa Ana, CA the tour takes Mayer through the North West, Midwest and Southeast wrapping up in San Diego on May 25th. A full list of dates can be found HERE. Fans who purchase tickets to see Mayer live will receive a digital copy of Man About Town upon release on April 8th. More tour dates to be announced soon.

Pre-order Man About Town today via iTunes, and receive instant downloads of 'Lingerie & Candlewax,' 'Love Like That,' and 'Cosmic Love.'

Mayer Hawthorne - Man About Town: iTunes | Amazon | Vinyl/CD