News
All Articles
Subscribe
Mar 10, 2015
CRUISR Release New Single Go For It, On Tour with Bleachers in June
CRUISR's new two track single Go For It is out today! Serving as a follow up to 2014's acclaimed All Over EP, the single features the title track as well as "Wild Babe." Preview both songs below.
 
Currently, CRUISR is on tour with X Ambassadors as they make their way to Austin Texas for this year's SXSW music festival. Following their time in Austin, the band will take a short break from the road before heading out with Bleachers in June. A full list of dates can be found HERE.

Purchase Go For It: iTunes | Amazon | Spotify


Mar 10, 2015
Dustin Kensrue Reveals "Of Crows and Crowns" Song + Video, New Tour Dates Announced
Dustin Kensrue has revealed a new song and video today for "Of Crows and Crowns" from his upcoming solo album, Carry The Fire. Directed by Vern Moen (Radiohead, Jack White, Cold War Kids), check out the beautifully shot black & white video below.

CarryThe Fire is set for release on April 21, 2015. Click HERE to pre-order on iTunes and receive instant downloads of both "Of Crows and Crowns" and "Back to Back."

This month Kensrue will kick off his spring touring schedule in support of CarryThe Fire with three shows in Austin, Texas during SXSW before beginning his previously announced co-headline dates with Andy Hull on April 21st in Chicago. New tour dates in the U.K. and additional headline U.S. dates along the west coast have also been announced today. Click HERE for all upcoming tour dates and ticket links.


Mar 09, 2015
Bad Suns Announce April/May US Headlining Tour
After extensive touring throughout 2014 and their first ever SOLD OUT headline tour in 2015 in support of their debut album, Language & Perspective, Bad Suns are gearing up to hit the road once again! Kicking off in Indio, CA at the Coachella Music Festival on April 11 & 18, the band will be playing to fans in the Midwest and the south throughout all of April and May. A full list of dates can be found below. Language & Perspective is available now on iTunes.

Bad Suns on tour:
4/11 Indio CA @ Coachella Music Festival
4/18 Indio CA @ Coachella Music Festival
4/24 Knoxville TN @ University of Tennessee
4/25 Charleston SC @ Music Farm
4/26 Atlanta GA @ Summer Series at Park Tavern
4/27 Orlando FL @ The Social
4/29 Richmond VA @ The National
4/30 Charlotte NC @ Visulite Theatre
5/01 Baltimore MD @ Ottobar
5/04 Pittsburgh PA @ Altar Bar
5/05 Columbus OH @ A&R Music Bar
5/06 Cleveland OH @ Cambridge Room at House of Blues
5/08 St Louis MO @ Firebird
5/10 Dallas TX @ Bomb Factory
5/11 Houston TX @ Fitzgerald's
5/12 Austin TX @ Emo's
5/14 Colorado Springs Co @ Black Sheep
5/15 Albuquerque NM @ Launchpad
5/26 Phoenix AX @ Pressroom
6/21 Dover DE @ Firefly Music Festival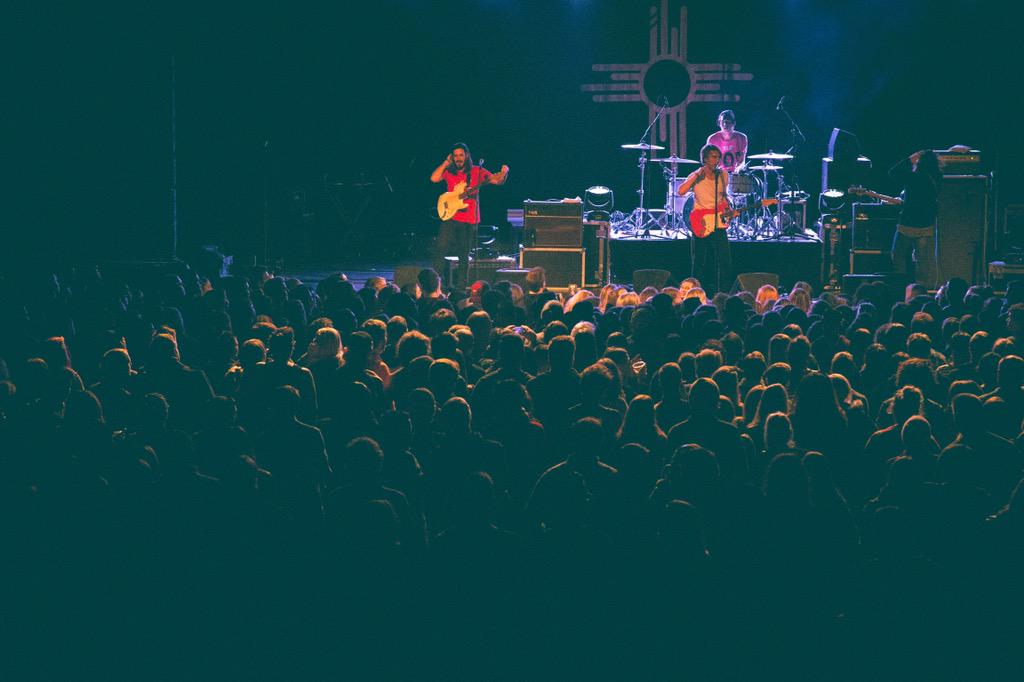 Feb 23, 2015
Bad Suns Nominated for mtvU Woodie Awards
Bad Suns' music video for "Salt" has been nominated for Best Video at the mtvU Woodie Awards!  Directed by renowned dancer, Daniel 'Cloud' Campos, the video uses striking choreography as it takes you on a journey through the every day struggles of a transgender individual. Watch the video below and click  HERE to vote.

  "Salt" appears on Bad Suns debut album, Language & Perspective, which was released last year and available now on  iTunes. The band is currently wrapping up the last week of dates on their North American headline run and all upcoming shows can be found HERE. 


Feb 18, 2015
CRUISR's "All Over" Free on iTunes, Nominated for mtvU's The Freshmen
CRUISR's single "All Over" is available for free download on iTunes this week only! Click HERE to grab your copy. The song is off the band's current All Over EP.

The "All Over" music video has also been nominated for mtvU's emerging artist feature The Freshmen. Click HERE to vote and get it some airplay.

CRUSIR will hit the road for a few dates with X Ambassadors starting March 11 before playing this year's SXSW in Austin, TX March 17-22. Click HERE for all upcoming tour dates and ticket links.


Feb 18, 2015
Black Rebel Motorcycle Club Announce Live in Paris Album & DVD Pre-Sale
Black Rebel Motorcycle Club are pleased to announce the release of Black Rebel Motorcycle Club- Live In Paris on May 5. The double album and accompanying DVD was recorded live at Theatre Trianon in Paris on February 24, 2014, during the band's sold-out tour of Europe. In addition to the full concert, the DVD also includes the documentary film 33.3% by Yana Amur, which shows fans an intimate side of the band never seen before. A full track list can be found below.

'It was a little over a year ago while sitting in the back of a passenger van outside Tokyo, all of us covered in sweat and half cocked grins trying to catch our breath after having just walked off stage, I remember someone uttering the idea that we might actually really want to think about filming one of these shows before it's all over," reflects Robert Been of BRMC. 'I guess my first reaction was that we could all use a very long hot shower much more than another live DVD at that exact moment. My second was that it might be a shame if we reached the end of that tour without capturing any of the beauty and even brutality of it. But a lot of the music we create is not only where we exist, but also where we escape to.'

'It's difficult though with film to avoid making a band into just another 'reality show' that's crafted into a product on a shelf, and at the same time just painting a plain picture of a live concert would almost be like a dream without very much color or feeling. In the end we have released two separate films to show both sides of the same coin….'Live In Paris' is the dream. And '33.3% Documentary' is the morning after.'

The concert film was directed by Bartleberry Logan and won the 2014 UK Music Video Award for "Best Live Concert Film." Live In Paris will be available as a 3 Disc set (2 CDs + 1 DVD) or 3 Vinyl collection + 1 DVD. Fans who pre-order either format will have the opportunity to augment their purchase by adding either a poster and/or T-shirt, both exclusive to the pre-order. Head to the ,BRMC official site to pre-order now and preview some clips from the concert and documentary.  As a bonus for those who pre-order, fans will be able to immediately download 6 digital tracks from the album.


Feb 17, 2015
Letts' Debut Album Hold Fast Available Now
Letts' debut album Hold Fast is out today! Recorded in the English countryside over the course of two consecutive Januaries, Christian Letts' new solo effort was produced by Marcus Mumford and features friends from both of their respective bands (Edward Sharpe and the Magnetic Zeros and Mumford and Sons). Preview the new song "Emeralds" below and follow the links to purchase. 

Purchase Hold Fast: iTunes | Amazon | Webstore


Feb 10, 2015
Dustin Kensrue Premieres New Song, Carry The Fire Now Available for Pre-Order
Billboard has just premiered the first new song from Dustin Kensrue's forthcoming solo album Carry The Fire! Click HERE to listen to "Back to Back." The new album is the long anticipated follow-up to Dustin's 2007 solo debut, Please Come Home.

Kensrue, known for his dynamic solo performances and as frontman for Southern California rock band Thrice, engineered and produced Carry The Fire on his own while mixing duties were handled by Brian Eichelberger and the album was mastered by Howie Weinberg. The record is now available for pre-order ahead of its April 21st release with an instant download of "Back to Back."

Pre-order Carry The Fire: iTunes | Amazon | Webstore

Dustin also announced today several co-headline dates with Andy Hull in April. Ticket pre-sales are now live HERE before the general on-sale on Friday, February 13th at 12pm Eastern. Click HERE for all upcoming shows.


Feb 03, 2015
WATERS Announce New Album What's Real, Premiere New Song "Stupid Games"
WATERS is excited to announce their new album and Vagrant Records debut, What's Real. You can stream a brand new track entitled "Stupid Games" over at Stereogum by clicking HERE. Pre-order What's Real now on iTunes and Vagrant webstore.

Serving as a follow up to 2014's It All Might Be OK EP, What's Real is comprised of eleven honest and raw tracks reminiscent of alternative rock stalwarts of the 90's. The album was recorded over a 15-month period with Grouplove producer/drummer Ryan Rabin as well as producer Carlos De La Garza (Paramore). The result is the perfect juxtaposition of songs that sound and feel big, all the while being incredibly personal and brutally honest.

Waters recently announced that they will be direct support for Matt and Kim's N. American spring headline tour. You can find a full list of tour dates HERE.

What's Real Track List
1. Got To My Head
2. I Feel Everything
3. Moms And Dads
4. The Avenue
5. What's Real
6. Inside My Room
7. Stupid Games
8. Breakdown
9. Over It
10. Rebel Yell
11. Green Eyes


Jan 30, 2015
Dustin Kensrue To Release "Carry The Fire" This Spring
Dustin Kensrue has announced that he will be releasing a new solo record entitled Carry The Fire on April 21st, via Vagrant/Staple Records. The new album was engineered and produced by Dustin and is the long anticipated follow up to the Thrice front man's 2007 solo debut, Please Come Home.

Dustin's Christmas album This Good Night Is Still Everywhere was recently pressed on limited edition colored vinyl and can be purchased HERE.

Carry The Fire Track List:
Ruby
Back to Back
Gallows
There's Something Dark
Death or Glory
In the Darkness
Of Crows and Crowns
Juggernaut Reference
What Beautiful Things
Carry The Fire