News
All Articles
Subscribe
Nov 13, 2015
School of Seven Bells Share New Track On Noisey, SVIIB Pre-Order Now Live
Today, School Of Seven Bells are pleased to share a new track off their upcoming and final record, SVIIB. Entitled "Open Your Eyes," the premiere serves as a precursor to the album's release on February 12, 2016. Check it out today exclusively on Vice.

It was in the summer of 2012 that SVIIB was written, "I can easily say that it was one of the most creative and inspired summers of our lives," Alejandra Deheza recounts. "What followed was the most tragic, soul shaking tidal wave that life could ever deliver, but even that wouldn't stop the vision for this record being realized".

It was in early 2013 that Benjamin Curtis was diagnosed with a rare form of T-Cell Lymphoblastic Lymphoma, less than a year later Deheza would be the sole member of the group. Benjamin Curtis passed away on December 29, 2013.

In 2014 Deheza moved to Los Angeles to finish the record with Justin Meldal-Johnsen (Beck, Nine Inch Nails, M83), "I'm trying to feature Benjamin as much as possible", Meldal-Johnsen says. As soon as Alley was settled in LA it took the two only a month and a half to finish the record. " This is a love letter from start to finish. It's the story of us starting from that first day we met in 2004, and that's the story of School of Seven Bells," Alley says, "When I see those roman numerals, I just think of an era".

SVIIB will be released on February 12, 2016 via Vagrant Records in the US, and Full Time Hobby in Europe, but today fans can pre-order the album on iTunes and receive "Open Your Eyes" as an instant download.

School of Seven Bells – SVIIB: iTunes | Vinyl and CD


Nov 11, 2015
Albert Hammond Jr. Premieres Next Oneway Studio Session
The next Albert Hammond Jr. Oneway Studio Session has premiered over on Shortlist Magazine! This latest performance features "Caught By My Shadow" off Hammond Jr's album, Momentary Masters. Jump below or head HERE to check it out. And, make sure to re-visit the first session featuring "Losing Touch."



Albert Hammond Jr. – Momentary Masters: iTunes | Amazon | Vagrant Webstore | Spotify

Nov 09, 2015
Dustin Kensrue on Latest Going Off Track Podcast
Dustin Kensrue recently recorded an interview on the latest Going Off Track podcast. Dustin discusses technology, Thrice, his solo work work and much more. Head HERE to check it out.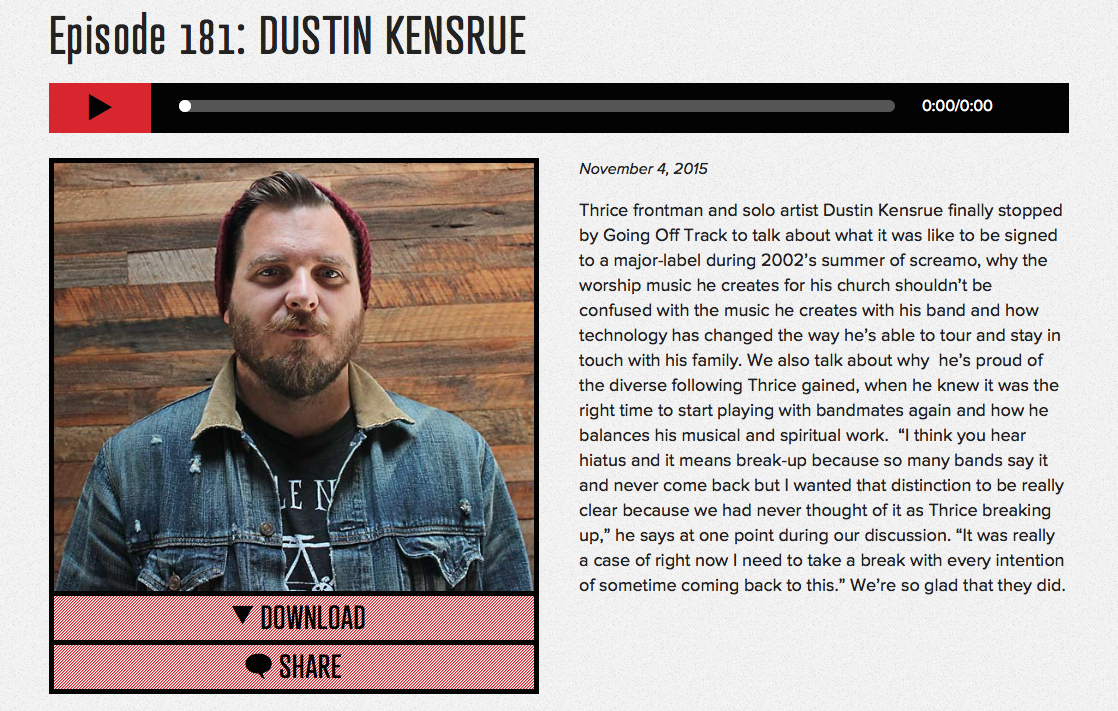 Dustin will be performing and recording a live covers album at The Constellation Room in Santa Ana, CA on December 15th and 16th. Grab tickets HERE.

Dustin Kensrue - Carry The Fire: iTunes | Amazon | Webstore
Nov 05, 2015
Bloc Party Performs "The Love Within" On The Late Late Show
Last night, Bloc Party brought their brand new single "The Love Within" to The Late Late Show With James Corden! Jump below to watch the performance. "The Love Within" appears on the band's upcoming LP, Hymns, which drops January 29, 2016.



Bloc Party - HYMNS Pre-Order: iTunes | Amazon
Bloc Party - "The Love Within": YouTube | Spotify | iTunes
Nov 04, 2015
Active Child Releases Two Part Video For "Midnight Swim" & "Darling"
Active Child's highly anticipated sophomore release, Mercy, was released this past summer and served as a follow up to 2011's critically acclaimed LP, You Are All I See. After touring extensively, Grossi took a short break but is back today with the premiere of dueling official videos for the album tracks 'Midnight Swim' and 'Darling.'

Starring Aliana Lohan and directed by TS&R, the videos were shot in one single take on film, a portrait captured in a moving picture. "I knew I wanted something simple and pure to fit the placid tone of 'Darling,' says Grossi. " And once we started shooting the single take of Ali at sunset I knew it was going to be unlike any other video I've done or seen really. I love the way it stops time." Set on the beach at sunset, the camera follows Lohan in a private moment that leads us in to a portrait like setting.

The directors, TS&R comment, "While it may it be possible to fall in love with a portrait, moving and still, the heartbreak is that we are always kept at a distance from this romance. The intimacy and closeness we are able to experience is always untouchable. In front of the glass door of a picture frame or the canvas of a painting, we are only allowed to look. We cannot smell the sea, or feel the wind but still we are there. When asked to spend 412 mins lost in a stare, the connection to our subject and backdrop grows. The mystery and curiosity begs us to know more and wait for change, if any at all. "

Watch the captivating stillness of the official videos HERE.


Nov 04, 2015
Bloc Party Premiere New Video for "The Love Within" On Rolling Stone
Bloc Party's brand new video for "The Love Within" has premiered today on Rolling Stone! Rolling Stone spoke with frontman Kele Okereke about the concept behind the video and the influence of spirituality on the band's upcoming album Hymns (out January 29). Click HERE to watch the video and read the interview in full.



Bloc Party - HYMNS Pre-Order: iTunes | Amazon
Bloc Party - "The Love Within": YouTube | Spotify | iTunes
Oct 29, 2015
School of Seven Bells Announce New Album, SVIIB
Today School of Seven Bells announced the band's fourth and final studio album, entitled SVIIB, will be released February 2016 via Vagrant Records in the US and Full Time Hobby in Europe. In a note to fans, Alejandra Deheza explains the story behind the record and shares a snippet of new music. Find both the letter and music below. Read the in-depth story behind SVIIB at Stereogum.

Friends,

Benjamin and I wrote this record during a tour break in the summer of 2012. I can easily say that it was one of the most creative and inspired summers of our lives. What followed was the most tragic, soul shaking tidal wave that life could deliver, but even that wouldn't stop the vision for this record from being realized. This is a love letter from start to finish. It's the story of us starting from that first day we met in 2004, and that's the story of School of Seven Bells. So much love to all of you. Thank you for being a constant light in our lives. This record is for you <3

-Alejandra


Oct 23, 2015
Best of Friends Release New Single, "Twist Shake Shout"
We're happy to welcome Best of Friends to the Vagrant roster! As their name suggests, Boston based alt-pop trio Best of Friends have been just that since their preteen years. The guys met playing local shows in the Boston suburbs and have been intertwined in one another's lives ever since.

After years of releasing records and touring in separate bands, John, Morgan and Jamel found themselves on a hiatus from making music. That is until a close friend's wedding inspired them to write and perform on the special day. "This originally started as a fun project," Jamel reflects, "but everything happened so organically we decided to make it official."

The excitement of writing and performing together motivated Best of Friends to continue, and the trio went on to self-release several singles online. Once taking inspiration from the Northeast punk scene, John, Morgan and Jamel now draw inspiration from their new home, sunny Los Angeles. Tracks filled with sing-along choruses and anthemic gang vocals are rooted in classic rock and it's deep origins. "I've mainly been influenced by my father and his love for roots reggae music," Morgan notes. "As a kid he would always be playing Motown or blues around the house. Watching my parents dance to those tunes made me want to recreate that happiness."

'Twist Shake Shout,' the band's first single on Vagrant Records, embodies feel good vibes and motivates the listener to do just as the title suggests. Narrative lyrics such as 'we found sunshine, love and phonographs, all our stuff in trunks and paper bags, " highlight the band's love for California and extend into the sing-along chorus as Morgan tenderly amps up the listener with "Oh! Come on and shout it out. Sing a little bit louder now." The single positively adds sunshine and energy to anyone's daily soundtrack.



Best of Friends – Twist Shake Shout: iTunes | Spotify
Oct 21, 2015
LP "Muddy Waters" Live Session Premieres on ELLE Magazine
Today, LP premiered a live performance of "Muddy Waters" over on ELLE Magazine! LP performs a raw, stripped-down version of her sultry new single. The performance was captured at Los Angeles' Harvard & Stone and directed by Collier Landry. Click HERE or jump below to check out her awesome performance.



If you're in Los Angeles, LP will be doing three November shows at the intimate No Vacancy in Hollywood. Details HERE.
Oct 12, 2015
Bloc Party Announce New Album, HYMNS
Bloc Party today announced the details of their new album HYMNS, due for release on January 29, 2016 in standard CD and digital formats, as well as deluxe CD, deluxe digital and limited edition double vinyl formats featuring four extra songs. The album's opening song, The Love Within, is available as an instant-grat to those pre-ordering the album; it is also available to stream and download now.

Bloc Party - HYMNS Pre-Order: iTunes | Amazon
Bloc Party - "The Love Within": YouTube | Spotify | iTunes




01. The Love Within
02. Only He Can Heal Me
03. So Real
04. The Good News
05. Fortress
06. Different Drugs
07. Into The Earth
08. My True Name
09. Virtue
10. Exes
11. Living Lux

12. Eden (deluxe edition bonus track)
13. Paradiso (deluxe edition bonus track)
14. New Blood (deluxe edition bonus track)
15. Evening Song (deluxe edition bonus track)

HYMNS is a rebirth for Bloc Party. After 16 years as a band, countless world tours and awards and four studio albums, Kele Okereke and Russell Lissack are taking it back to where it all began.

"Bloc Party started with just Kele and I, and we used to write the songs together, and we found other people and grew from that. It feels like that's happened again," says Russell. They started writing together, just the two of them, in 2014, and were joined at various stages by the two new members who have made Bloc Party a four-piece again: bassist Justin Harris, whom the band met in his previous guise as part of the Portland indie rock band Menomena, and drummer Louise Bartle, a 21-year-old that the pair discovered on YouTube, and who "blew us away. It's good to have someone bringing that energy of doing it for the first time. It's made us all excited about going forward."

As the title suggests, the fifth Bloc Party record is about faith and devotion, but it is not, Kele insists, a religious epiphany. "I grew up in a religious house so I'm fully aware of the imagery, but I'm not Christian. It's not something I subscribe to." Instead, the concept came to him after seeing the author Hanif Kureishi, whom Kele has admired since he was at school, talk at the Southbank Centre in London. The author of My Beautiful Laundrette and Intimacy was discussing evangelical art and how unfashionable it has become. "And that point stuck with me because it seemed like for me music had originated in a religious place. The first music I ever heard was hymns at school. I started to think, if I was going to make music that had a spiritual dimension, that was sacred to me and to the things that I held important, how would I do it?" The result is a record that sounds like a band growing and changing, pushing new sounds via new approaches, and resulting in more free, less constricted Bloc Party. HYMNS marks a departure for the band sonically, too, with Kele and Russell trying sounds and approaches that they have never previously explored.

"It's still a very live record," says Russell. "Everything has been played, though it doesn't necessarily sound like that. We take a lot of influence from electronic music, for example, and then try to bring that into a completely different environment." Kele is astounded at the results. "What Russell is doing now is completely blowing my mind. He's using the guitar as an instrument of white noise, as well as a melodic tool. I'm super-excited about getting this music in front of people."

Last week Bloc Party got the music in front of a UK audience for the first time, performing at Maida Vale studios to open BBC 6 Music Live, a week long series of live music broadcast from the legendary west London studios. The band's set included new songs "The Good News" and "Exes," alongside highlights from their considerable back catalogue including "Octopus," "Banquet" and "This Modern Love."

Watch Exes (6 Music Live at Maida Vale October 2015)