News
All Articles
Subscribe
Nov 20, 2015
Albert Hammond Jr. Plays Kimmel, Features In Act Like A Musician Series
Last night, Albert Hammond Jr. and his band performed two selections from Momentary Masters on Jimmy Kimmel Live! Check out videos of "Born Slippy" and "Razors Edge" below.





Albert recently filmed an episode of Act Like A Musician for AOL. The new webseries showcases a conversation and a musical collaboration between musicians and actors. In the first episode, Albert and long-time friend Danny Masterson discuss their friendship and careers before performing Albert's Yours to Keep track "Blue Skies". Watch the episode HERE.
Nov 17, 2015
WATERS Announce West Coast Headline Tour
Today, WATERS announced a west coast headline tour for February 2016. The headline stint will take the group through California and Arizona. Tickets for this run of dates go on sale this Friday.

WATERS On Tour:
2/6 Los Angeles, CA @ Troubadour
2/9 Phoenix, AZ @ Valley Bar
2/10 La Jolla, CA @ UCSD - The Loft
2/11 Santa Ana, CA @ Constellation Room
2/12 San Francisco, CA @ Slim's


Nov 16, 2015
LP Premieres "Lost On You" At Consequence of Sound
LP has premiered her brand new single on Consequence of Sound! "Lost On You" is the second collaboration with producer Mike Del Rio of POWERS. The first, "Muddy Waters," was released in September. Consequence of Sound calls "Lost On You" an "ode to all that's lost when love ends." Head HERE to give it a listen.
Nov 13, 2015
School of Seven Bells Share New Track On Noisey, SVIIB Pre-Order Now Live
Today, School Of Seven Bells are pleased to share a new track off their upcoming and final record, SVIIB. Entitled "Open Your Eyes," the premiere serves as a precursor to the album's release on February 12, 2016. Check it out today exclusively on Vice.

It was in the summer of 2012 that SVIIB was written, "I can easily say that it was one of the most creative and inspired summers of our lives," Alejandra Deheza recounts. "What followed was the most tragic, soul shaking tidal wave that life could ever deliver, but even that wouldn't stop the vision for this record being realized".

It was in early 2013 that Benjamin Curtis was diagnosed with a rare form of T-Cell Lymphoblastic Lymphoma, less than a year later Deheza would be the sole member of the group. Benjamin Curtis passed away on December 29, 2013.

In 2014 Deheza moved to Los Angeles to finish the record with Justin Meldal-Johnsen (Beck, Nine Inch Nails, M83), "I'm trying to feature Benjamin as much as possible", Meldal-Johnsen says. As soon as Alley was settled in LA it took the two only a month and a half to finish the record. " This is a love letter from start to finish. It's the story of us starting from that first day we met in 2004, and that's the story of School of Seven Bells," Alley says, "When I see those roman numerals, I just think of an era".

SVIIB will be released on February 12, 2016 via Vagrant Records in the US, and Full Time Hobby in Europe, but today fans can pre-order the album on iTunes and receive "Open Your Eyes" as an instant download.

School of Seven Bells – SVIIB: iTunes | Vinyl and CD


Nov 11, 2015
Albert Hammond Jr. Premieres Next Oneway Studio Session
The next Albert Hammond Jr. Oneway Studio Session has premiered over on Shortlist Magazine! This latest performance features "Caught By My Shadow" off Hammond Jr's album, Momentary Masters. Jump below or head HERE to check it out. And, make sure to re-visit the first session featuring "Losing Touch."



Albert Hammond Jr. – Momentary Masters: iTunes | Amazon | Vagrant Webstore | Spotify

Nov 09, 2015
Dustin Kensrue on Latest Going Off Track Podcast
Dustin Kensrue recently recorded an interview on the latest Going Off Track podcast. Dustin discusses technology, Thrice, his solo work work and much more. Head HERE to check it out.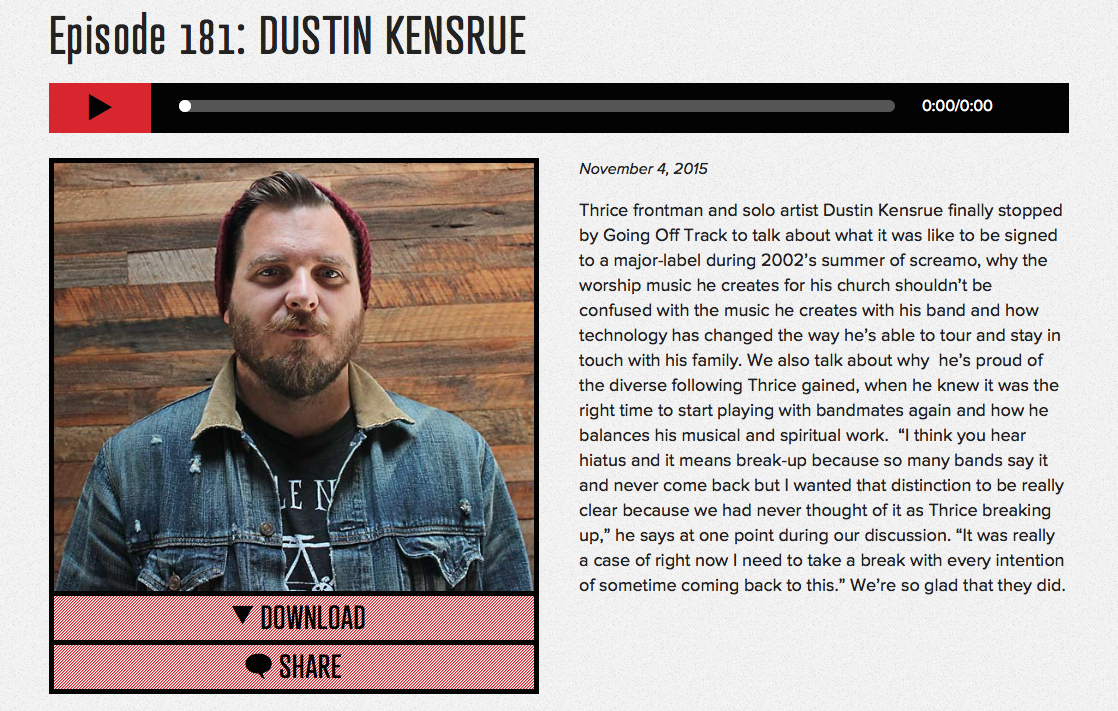 Dustin will be performing and recording a live covers album at The Constellation Room in Santa Ana, CA on December 15th and 16th. Grab tickets HERE.

Dustin Kensrue - Carry The Fire: iTunes | Amazon | Webstore
Nov 05, 2015
Bloc Party Performs "The Love Within" On The Late Late Show
Last night, Bloc Party brought their brand new single "The Love Within" to The Late Late Show With James Corden! Jump below to watch the performance. "The Love Within" appears on the band's upcoming LP, Hymns, which drops January 29, 2016.



Bloc Party - HYMNS Pre-Order: iTunes | Amazon
Bloc Party - "The Love Within": YouTube | Spotify | iTunes
Nov 04, 2015
Active Child Releases Two Part Video For "Midnight Swim" & "Darling"
Active Child's highly anticipated sophomore release, Mercy, was released this past summer and served as a follow up to 2011's critically acclaimed LP, You Are All I See. After touring extensively, Grossi took a short break but is back today with the premiere of dueling official videos for the album tracks 'Midnight Swim' and 'Darling.'

Starring Aliana Lohan and directed by TS&R, the videos were shot in one single take on film, a portrait captured in a moving picture. "I knew I wanted something simple and pure to fit the placid tone of 'Darling,' says Grossi. " And once we started shooting the single take of Ali at sunset I knew it was going to be unlike any other video I've done or seen really. I love the way it stops time." Set on the beach at sunset, the camera follows Lohan in a private moment that leads us in to a portrait like setting.

The directors, TS&R comment, "While it may it be possible to fall in love with a portrait, moving and still, the heartbreak is that we are always kept at a distance from this romance. The intimacy and closeness we are able to experience is always untouchable. In front of the glass door of a picture frame or the canvas of a painting, we are only allowed to look. We cannot smell the sea, or feel the wind but still we are there. When asked to spend 412 mins lost in a stare, the connection to our subject and backdrop grows. The mystery and curiosity begs us to know more and wait for change, if any at all. "

Watch the captivating stillness of the official videos HERE.


Nov 04, 2015
Bloc Party Premiere New Video for "The Love Within" On Rolling Stone
Bloc Party's brand new video for "The Love Within" has premiered today on Rolling Stone! Rolling Stone spoke with frontman Kele Okereke about the concept behind the video and the influence of spirituality on the band's upcoming album Hymns (out January 29). Click HERE to watch the video and read the interview in full.



Bloc Party - HYMNS Pre-Order: iTunes | Amazon
Bloc Party - "The Love Within": YouTube | Spotify | iTunes
Oct 29, 2015
School of Seven Bells Announce New Album, SVIIB
Today School of Seven Bells announced the band's fourth and final studio album, entitled SVIIB, will be released February 2016 via Vagrant Records in the US and Full Time Hobby in Europe. In a note to fans, Alejandra Deheza explains the story behind the record and shares a snippet of new music. Find both the letter and music below. Read the in-depth story behind SVIIB at Stereogum.

Friends,

Benjamin and I wrote this record during a tour break in the summer of 2012. I can easily say that it was one of the most creative and inspired summers of our lives. What followed was the most tragic, soul shaking tidal wave that life could deliver, but even that wouldn't stop the vision for this record from being realized. This is a love letter from start to finish. It's the story of us starting from that first day we met in 2004, and that's the story of School of Seven Bells. So much love to all of you. Thank you for being a constant light in our lives. This record is for you <3

-Alejandra