News
All Articles
Subscribe
Jan 07, 2016
CRUISR Profile In New Issue of NKD Mag
Get even more familiar with the guys in CRUISR by checking out their feature in the latest issue of NKD Mag! Their article, as well as the entire issue, is available to read for free HERE.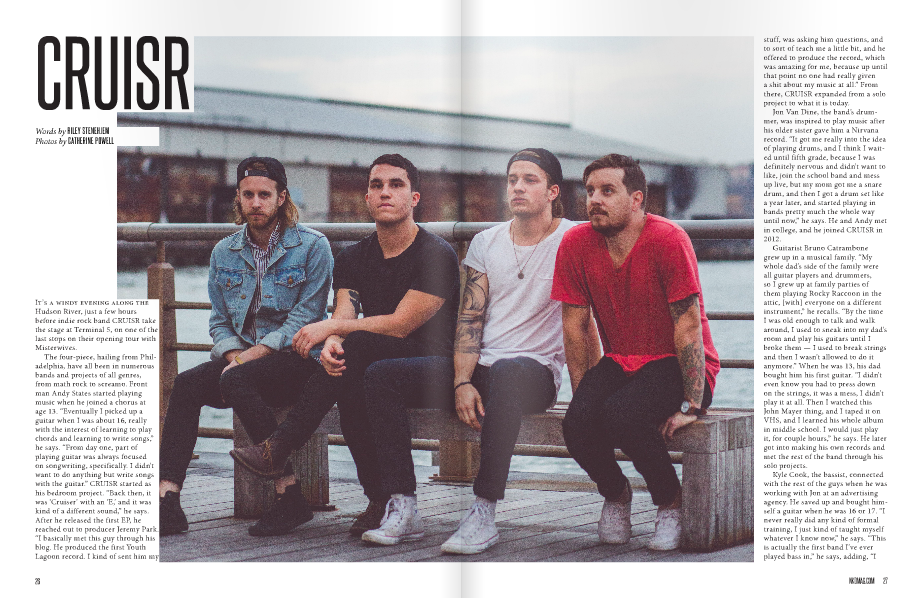 Jan 06, 2016
The 1975 Feature On When The Gramophone Rings
The 1975 was recently profiled by When The Gramophone Rings while on their most recent US tour. The in-depth interview with frontman Matty Healy reveals details about the band's upcoming album, the group's ambitions for the future and more. This interview is a must read for all The 1975 fans, head HERE to give it a read.


Jan 04, 2016
WATERS' Sara DaMert Chats With UO Music About Staying Healthy On The Road
WATERS' keyboard extraordinaire Sara DaMert recently talked with Urban Outfitters about how she stays goal-oriented and healthy while touring. Sara is vegetarian and details how she shops while on the road and shares the strangest meal she's ever cooked up during a 10-hour drive. Head HERE for the full interview!


Dec 16, 2015
Albert Hammond Jr. Session on KEXP
Albert Hammond Jr. and his band recorded a live studio session with KEXP back in October. Now, their full performance is available for viewing! Jump below to watch the set which features a mix of new and old AHJ classics.



Albert Hammond Jr. – Momentary Masters: iTunes | Amazon | Vagrant Webstore | Spotify

Dec 11, 2015
The 1975 Release New Single "UGH!"
Today, The 1975 released the second single from their upcoming album, I Like It When You Sleep, For You Are So Beautiful Yet So Unaware of It, titled "UGH!" The track is available on Spotify and as an instant download on iTunes when you pre-order the band's sophomore LP. Jump below to give it a listen and head HERE to pre-order their album out February 26.


Dec 07, 2015
The 1975 Announce New Album Pre-Order, 2016 North American Tour Dates
Pre-orders for The 1975's upcoming album, I Like It When You Sleep, For You Are So Beautiful Yet So Unaware of It are live! The album, arriving February 26, 2016, is available on CD, vinyl and an exclusive box set via the band's webstore.

All pre-orders include guaranteed access to tickets for the band's Spring 2016 North American Tour. A full list of Spring 2016 tour dates can be found HERE.


Dec 03, 2015
Thrice Entering Studio to Record Ninth Studio Album, LA Headlining Date Confirmed for June 3 at The Shrine
Just last week, Thrice announced plans to record a brand new record. They'll be hitting the studio early next year to begin recording, with plans to release their ninth studio album in 2016.

In celebration of the news, Thrice is excited to announce a headlining Los Angeles date on June 3rd, 2016 at The Shrine. Tickets are on sale today and can be purchased HERE.

Stay tuned for more exciting Thrice news to come.


Dec 01, 2015
Bloc Party Premiere New Single "The Good News" at SPIN
Today, Bloc Party have released a brilliant new track off their much anticipated new album HYMNS! The track, which received an exclusive radio play across the pond on Steve Lamacq's 6Music radio show, is classic Bloc Party awesomeness. Jump below or head HERE to listen to "The Good News" which premiered via SPIN. HYMNS will be released in January of next year. Pre-orders for the album are now live.



Bloc Party - HYMNS Pre-Order: iTunes | Amazon

Nov 30, 2015
LP Records Three-Song Session With Jam In The Van
LP linked up with Jam In The Van in Los Angeles to record a mini-session of three songs including her two latest singles, "Muddy Waters" and "Lost On You." Watch the entire session and read JITV's profile on LP HERE.



LP – Muddy Waters: iTunes | Amazon | Spotify
LP – Lost On You: iTunes | Amazon | Spotify