News
All Articles
Subscribe
Feb 26, 2016
School of Seven Bells' Final Album, SVIIB, Out Now
School of Seven Bells' fourth and final album, SVIIB, is available today.

It was in the summer of 2012 that SVIIB was written, "I can easily say that it was one of the most creative and inspired summers of our lives," Alejandra Deheza recounts. "What followed was the most tragic, soul shaking tidal wave that life could ever deliver, but even that wouldn't stop the vision for this record being realized".

It was in early 2013 that Benjamin Curtis was diagnosed with a rare form of T-Cell Lymphoblastic Lymphoma, less than a year later Deheza would be the sole member of the group. Benjamin Curtis passed away on December 29, 2013.

In 2014 Deheza moved to Los Angeles to finish the record with Justin Meldal-Johnsen (Beck, Nine Inch Nails, M83), "I'm trying to feature Benjamin as much as possible", Meldal-Johnsen says. As soon as Alley was settled in LA it took the two only a month and a half to finish the record. " This is a love letter from start to finish. It's the story of us starting from that first day we met in 2004, and that's the story of School of Seven Bells," Alley says, "When I see those roman numerals, I just think of an era".

A note from Alejandra can be found below:

Beautiful magical powerful friends,

I'm at a loss for not just the right words, but for enough words to even touch what I'm feeling today - about SVIIB finally being out in the world, about how I still can't believe this day is actually here, and about how I wish with every cell in my body that Benjamin as we knew him was right next to me as I'm writing this to you. The Love is running on high. I will say this: Benjamin changed me and changed my life forever. School of Seven Bells has changed me and my life forever. And YOU guys have changed me and my life forever. Endless love and strength and gratitude to you for being with us on this journey. We were all in it together. Thank you for sharing these years with us and the years to come.

Love and Power and Peace, Alley



School of Seven Bells – SVIIB: iTunes | Amazon | Spotify | Vinyl and CD
Feb 20, 2016
Benjamin Francis Leftwich Announces New Album, After The Rain
Today, Benjamin Francis Leftwich announced that he will be releasing his first album in five years on August 19, 2016. Below you can find a message from Benjamin about the release.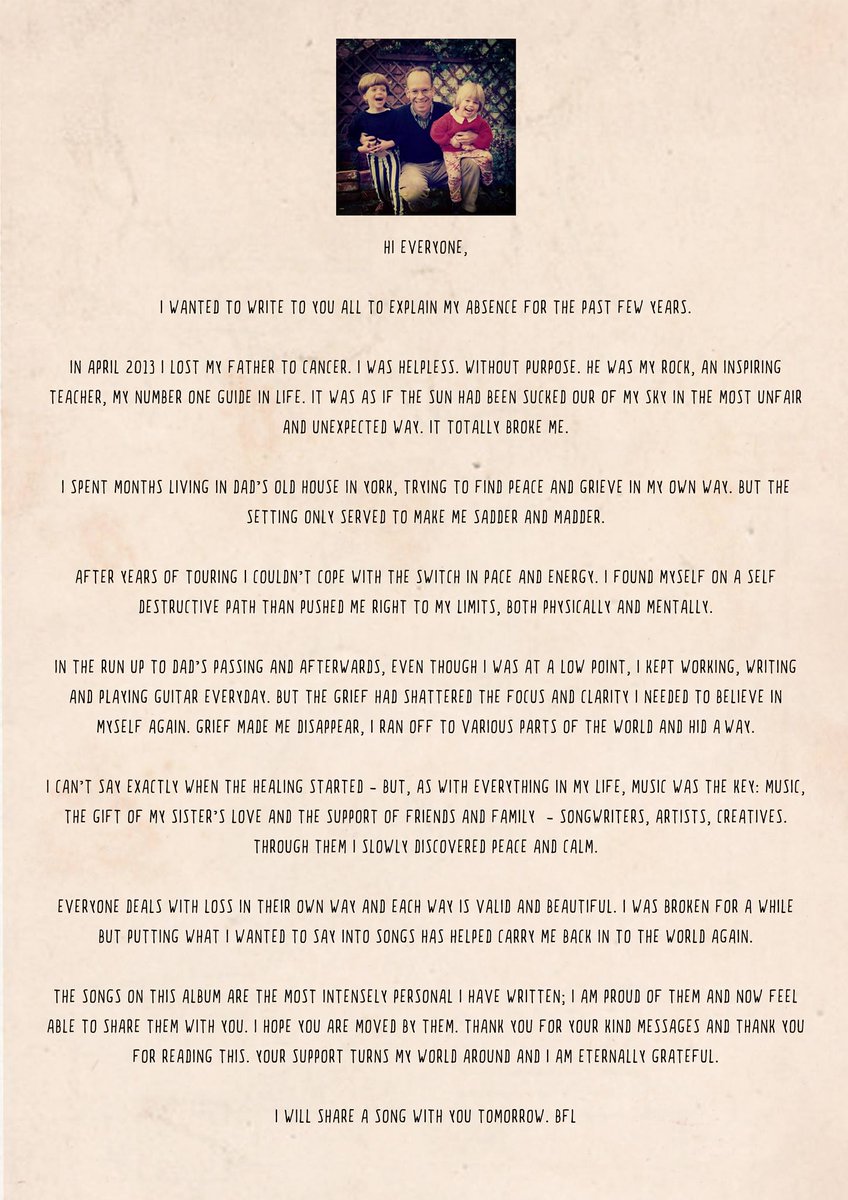 Along with the album announcement, Benjamin has shared the first single off the upcoming record titled "Tilikum." Hear the track and pre-order After The Rain HERE.


Feb 18, 2016
Mayer Hawthorne Announces New Album, Man About Town, Out April 8
Grammy nominated recording artist, Mayer Hawthorne, is pleased to announce the release of his fourth full-length record. Entitled Man About Town, the album is set to hit streets on April 8th. Today, you can stream the first single off the album, "Love Like That," via Soundcloud. Additionally, fans can pre-order Man About Town today via iTunes, and receive instant downloads of album cuts "Cosmic Love," and "Love Like That." Pre-order HERE.



On Man About Town, Hawthorne is back to handling the lion's share of production. He also played damn near every instrument on the album and penned every track. His songwriting pulls from his life and observations; his heartache and joy. Sometimes it's groovy, other times he's vulnerable and sincere. It's the shit people listen to when they wanna get drunk and stoned and sentimental. The reason? Mayer Hawthorne stays making that timeless, soulful, baby-making music.

In preparation for the new release, Mayer Hawthorne will be performing tomorrow, February 19, at Madison Square Garden supporting Hall & Oates. More tour dates to be announced.



Mayer Hawthorne - Man About Town: iTunes | Amazon | Vinyl/CD
Feb 18, 2016
School of Seven Bells Stream SVIIB In Its Entirety On NPR First Listen
It was in the summer of 2012 that School of Seven Bells' fourth and final album, SVIIB, was written. "I can easily say that it was one of the most creative and inspired summers of our lives," Alejandra Deheza recounts. "What followed was the most tragic, soul shaking tidal wave that life could ever deliver, but even that wouldn't stop the vision for this record being realized." SVIIB will be released everywhere on February 26, but today fans can stream the record in its entirety via NPR's First Listen HERE.

Alejandra recently chatted with NPR Weekend Edition host Scott Simon about the making of SVIIB. In case you missed it, listen to the interview HERE.

School of Seven Bells – SVIIB: iTunes | Vinyl and CD
Feb 12, 2016
Albert Hammond Jr. Performs "Caught By My Shadow" on James Corden
Albert Hammond Jr. and his band brought "Caught By My Shadow" to The Late Late Show with James Corden last night. Check out his performance of the stellar Momentary Masters track below!



Albert Hammond Jr. - Momentary Masters: iTunes | Amazon | Vagrant Store | Spotify
Feb 11, 2016
Mayer Hawthorne Shares Official Video for "Cosmic Love"
Just last month Mayer Hawthorne released a brand new track via Pitchfork. The soulful banger was co-produced by Mayer and Benny Sings, and will appear on Mayer Hawthorne's new album, which is expected this spring. Today, Mayer is excited to share the official music video for the jam, what he calls a "multi-part, neo-noir, detective thriller." Check out the first installment today via The FADER.



In preparation for the new release, Mayer Hawthorne will be performing next week, February 19, at Madison Square Garden supporting Hall & Oates. More tour dates to be announced.
Feb 08, 2016
The 1975 Perform on Saturday Night Live
The 1975 were the musical guest on this weekend's episode of Saturday Night Live hosted by Larry David. The band performed two singles from their upcoming album, I Like It When You Sleep, For You Are So Beautiful Yet So Unaware of It, which releases February 26th. Jump below and catch our their stellar performances.

"The Sound"

"Love Me"
Feb 05, 2016
Dustin Kensrue Announces Live Covers Album, Thoughts That Float On A Different Blood
Singer-songwriter Dustin Kensrue will be releasing his third solo album, Thoughts That Float On A Different Blood, on March 18, 2016. Comprised of ten tracks, the album serves as a follow up to 2015's Carry The Fire which Billboard hailed "tuneful, infectious…a folk framework with a rock backbone."

"For years I've peppered my solo sets with a variety of cover songs," notes Dustin. "Playing a cover song is a bit like stepping into someone else's skin for a moment, inhabiting a story that came from somewhere totally outside of your experience and even your imagination. The new record is a sampling of some of my favorites that I've tried on over the years. It's a challenge to find songs that will really shine when stripped to their bones and these have all proved their worth."

Thoughts That Float On A Different Blood showcases Dustin covering some of pop-culture's most important songs, both past and present, from artists such as Cold War Kids, Radiohead, Brand New, Leonard Cohen and The Counting Crows to name a few. Today, check out Dustin's take on Tom Waits' "Down There By The Train" below.



Thoughts That Float On A Different Blood Track List:

Hospital Beds
Buzzcut Season
Jesus Christ
Creep
Wrecking Ball
Cold As It Gets
Round Here
State Trooper
Dance Me To The End Of Love
Down There By The Train

Dustin Kensrue - Thoughts That Float On A Different Blood: iTunes | Amazon | CD & Vinyl

Feb 01, 2016
PJ Harvey Debuts New Video For "The Wheel"
Noisey has the premiere of PJ Harvey's new video for "The Wheel." The video was directed by filmmaker and photographer Seamus Murphy. Below are a few words from Seamus about the direction and inspiration behind the video:

"Polly and I wanted to initiate a project together working in places we thought interesting and relevant. We met through her seeing my photographs from Afghanistan, and I later showed her more work, including some from the war in Kosovo in the late 1990s. I had experience and contacts in both places and Polly had long held a fascination for Afghanistan and was caught up following the events in Kosovo when it was topical. Both had troubled histories and because of the news were familiar in name to everybody; the detail and nuance was maybe lacking or forgotten. I had returned to Kosovo in 2004 when the conflict erupted again, finding unresolved disputes and a deep frustration on every side with the pace and handling of events.

"An invitation came to both of us early in the summer of 2011. We were asked to attend a screening of the complete 12 Short Films I had made for the Let England Shake album, and to be part of a Q and A afterwards at the Dokufest in Prizren, southern Kosovo. Not something Polly would normally do, yet there was something inevitable about it all and it would get the project started. So we went.

"The song 'The Wheel' has the journey to Kosovo at its center. Who is to say what else has influenced and informed its creation? The sight of a revolving fairground wheel in Fushe Kosove/Kosovo Polje near the capital Pristina is the concrete reference point for the title. I can tell you its date—4th August 2011—from the piece of footage I made as we walked up the street to our parked car near the train station. It was a passing observation of a commonplace image, one of many that day. While Polly took notes I might have been more interested in something else happening across the street and not bothered to shoot or even have seen it. That day we were gathering material in a blind, optimistic endeavor; characteristic of the way we tend to work together. We had no idea if any of it would ever be seen, heard or would make sense.

"Was that sight alone the inspiration for the song? Without being told the stories of people who had suffered during the war, without visiting villages abandoned through ethnic cleansing and cycles of vengeance, without experiencing the different perceptions of people with shared histories, could the song have been written?

"I made a return trip to Kosovo in December 2015, armed this time with the knowledge of how the project had developed. In addition to Kosovo, there had been journeys to Afghanistan and Washington D.C. A book, The Hollow of the Hand, had been published of Polly's poems and my photographs and a words/images/music launch on the stage of the Royal Festival Hall over two nights. A recording session turned art installation in Somerset House which I filmed. The album was mastered and on its way. Disparate elements finally coming together of a project that started with the premise of curiosity and interest.

"Making the film for 'The Wheel' involved a mix of footage from the first trip in 2011, rehearsals I shot of Polly in London and the most recent trip to Kosovo. The enormous refugee crisis in Europe had been news for months. I spent some time on the Greek and Macedonian borders, and in Serbia, before traveling into Kosovo. It was happening in and through territories associated with recent conflicts in Kosovo and the wider Balkans. The idea of cycles, wheels and repetition once again being all too apparent and necessary to make.

"We salute the life of Nesim Kryeziu (1938-2016) the wonderful man in the film performing a traditional dance with a glass of water on his head at a wedding in his village of Brezne in the Opoja region of Kosovo."

Head HERE or jump below to watch the video.


Jan 29, 2016
Bloc Party's HYMNS Out Now
Happy Release Day to Bloc Party who's fifth album HYMNS is in stores today!

HYMNS is a rebirth for Bloc Party. After 16 years as a band, countless world tours and awards and four studio albums, Kele Okereke and Russell Lissack are taking it back to where it all began.

"Bloc Party started with just Kele and I, and we used to write the songs together, and we found other people and grew from that. It feels like that's happened again," says Russell. They started writing together, just the two of them, in 2014, and were joined at various stages by the two new members who have made Bloc Party a four-piece again: bassist Justin Harris, whom the band met in his previous guise as part of the Portland indie rock band Menomena, and drummer Louise Bartle, a 21-year-old that the pair discovered on YouTube, and who "blew us away. It's good to have someone bringing that energy of doing it for the first time. It's made us all excited about going forward."

As the title suggests, the fifth Bloc Party record is about faith and devotion, but it is not, Kele insists, a religious epiphany. "I grew up in a religious house so I'm fully aware of the imagery, but I'm not Christian. It's not something I subscribe to." Instead, the concept came to him after seeing the author Hanif Kureishi, whom Kele has admired since he was at school, talk at the Southbank Centre in London. The author of My Beautiful Laundrette and Intimacy was discussing evangelical art and how unfashionable it has become. "And that point stuck with me because it seemed like for me music had originated in a religious place. The first music I ever heard was hymns at school. I started to think, if I was going to make music that had a spiritual dimension, that was sacred to me and to the things that I held important, how would I do it?" The result is a record that sounds like a band growing and changing, pushing new sounds via new approaches, and resulting in more free, less constricted Bloc Party. HYMNS marks a departure for the band sonically, too, with Kele and Russell trying sounds and approaches that they have never previously explored.

"It's still a very live record," says Russell. "Everything has been played, though it doesn't necessarily sound like that. We take a lot of influence from electronic music, for example, and then try to bring that into a completely different environment." Kele is astounded at the results. "What Russell is doing now is completely blowing my mind. He's using the guitar as an instrument of white noise, as well as a melodic tool. I'm super-excited about getting this music in front of people."

HYMNS is available digitally on iTunes and Amazon, as well on CD and limited 2xLP white vinyl in the Vagrant webstore.

Bloc Party - HYMNS: iTunes | Amazon | CD & Vinyl